If you live or have ever lived in Babylon you probably know about Glen's Dinette, because it has been serving up delicious food to the locals since the late 1940s.  There have been different owners over the years, but two key things have stayed the same: the name and that people love Glen's.  Just drive by on a weekend morning and see the people waiting outside for a coveted table. Chrissy and "Hapi" Auer have owned Glen's for almost thirty years now; they are well practiced at maintaining Glen's high standards and it shows.
Glen's serves up some terrific food, but it also serves up a hearty dose of small-town American nostalgia. Old pictures of Babylon Village and vintage license plates line the walls, alongside pictures drawn and colored by Glen's smallest customers. When you enter Glen's it is like you have stepped through a portal into the past.
The old fashioned soda fountain style counter, red stools, and black and white checkerboard floor are straight out of an old movie set in the 1950s. Originally Glen's was just the red counter and a few tables, but as its popularity and menu grew so did its space.
Luckily for the locals, Glen's expanded to meet the demands of its ever growing fan base. Even with its expansion and growth, people often still have to wait for a table, it's just that good.  Waiting for a table isn't always a bad thing, as there are terrific shops lining the sidewalk next to Glen's. Bubble, Bubble East, Thistle and That, and Hitch are great little shops to browse and perhaps grab a last minute gift while you wait for your table.
When I was a kid, my mom owned a real estate office on Main Street and I was often tasked with getting the agents' lunches. Most days it was all from Glen's. Juicy burgers and fries, club sandwiches, chef salads, and orders of meatloaf and mashed potatoes would be devoured on a daily basis. It's a wonder how anyone got any work done after lunch!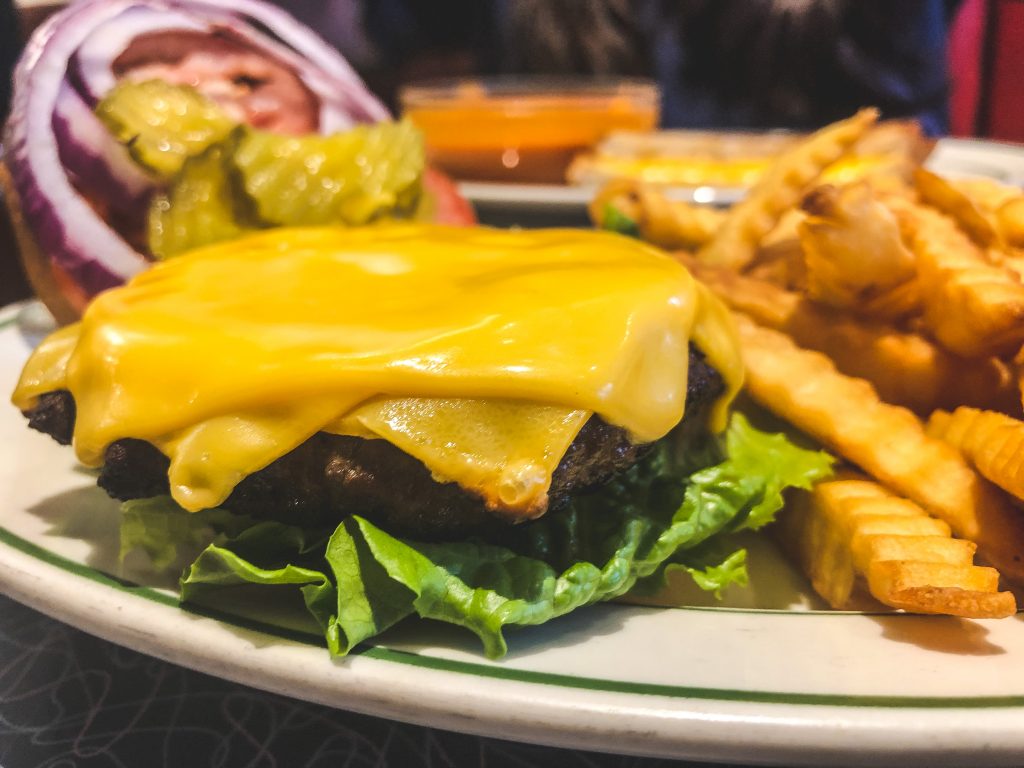 Glen's is really busy at breakfast, as theirs is hard to beat, and the menu is filled with "breakfast all day" choices. There is a variety of omelettes, French toast, Belgian waffles and breakfast wraps.
Many items are made fresh daily by their skilled cooks. There are homemade raisin tea biscuits, scratch baked muffins, banana pecan bread and out of this world corned beef hash. If you are a pancake lover, there are many great choices but you can't go wrong with their Blue Monkey pancakes loaded with sliced bananas and fresh blueberries.
Another popular dish is their famous Idaho. This is a "heaping plate of home fries smothered in bacon, scallions, and cheddar cheese, topped with two eggs any style and served with toast." Glen's doesn't forget their tiniest patrons either, with crayons and coloring pages available. Kids can choose from a menu of breakfast favorites, including smiley face pancakes with a choice of bananas, blueberries or even chocolate chips for those who have parents with nerves of steel.
Yesterday we stopped in for a quick lunch and enjoyed a cheeseburger deluxe and a terrific grilled cheese with a bowl of homemade tomato soup, like right out of my grandma's kitchen.
Glen's is like a walk through the past with its décor and atmosphere, but the food has kept up with the times. In addition to the classics, they also have a great selection of more modern fare like arugula and goat cheese salad, a black bean and beet burger, and crab cakes Benedict—poached eggs over homemade crab cakes topped with hollandaise sauce and served with roasted root vegetables.  Their menu truly has something for everyone.
If you have been living under a (Babylon) rock and have never eaten at Glen's, do yourself a favor and go. If you are one of their loyal fan base, see you this Sunday for breakfast.
A big thank you to Chrissy and Hapi Auer for working so hard to feed our bellies and our souls at Glen's Dinette.